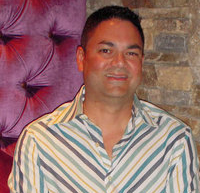 Edgar Solis was born in San Juan Puerto Rico, in 1988 he graduated from the University of Puerto Rico, Mayagüez Campus with a BBA in marketing. Since an early age, he felt a great passion for photography and worked for a couple of years as a full time photo assistant for commercial photographer Alberto Ortega in Puerto Rico. After relocating to Atlanta, GA in August 1991 he enrolled at The Atlanta Art Institute and graduated with honors in 1995 with an Associate Degree in Commercial Photography. He earned the best portfolio in his class. From 1998 to 2001 Edgar participated in many Art Shows in the southeast show circuit, including GA, NC, TN and FL and gallery group shows in the Atlanta metro area. He shared his perspective with captures of the places he visited, creating black and white silver gelatin prints and Polaroid image and emulsion transfer prints.

For fourteen years, Edgar enjoyed a successful career as a freelance commercial photographer in Atlanta, GA shooting product for home and garden catalogs, jewelry designers, furniture makers, food publications and others. With the downturn of the USA economy in late 2008, Edgar decided to do a career change to follow his other passion, wine. In 2009 he enrolled at The Atlanta Wine School, under the expert guidance of Certified Sommelier Michael Bryan, he obtained his credentials as a Certified Specialist of Wine (CSW).

After managing a specialty wine store and wine bar in the Atlanta metro area for two years, In August 2011 Edgar was able to relocate to Napa Valley with his wife Julie. On May, 2012 Edgar accepted a position as a wine educator with one of his favorite wineries. Edgar shares his wine and food tasting experiences with readers at Examiner.com writing under National and SF Wine Pairing Examiner. He is now offering complete professional photographic services to the wine, food and hospitality industries in the Napa and Sonoma Valley area, from simple wine labels to beauty shots, food photography, architectural shots, event covering, portraits and more. Please Contact Edgar for competitive pricing and volume discounts.
---
"I feel very fortunate to live in such a beautiful place and combine my two passions, photography and wine and share them with family and friends."
You can contact Edgar at:

cell: 678.480.3974
23 Horizon Ct.
American Canyon
CA 94503